October 5 Someone's got to do it! Here I am in our trusty old caravan at our favourite retreat, Woodgate Beach.

But, as you can see, my OLPC work is not being neglected! In fact I'm finally back to struggling with the Web Tute activity - hopefully I'll have more to show you at the end of our stay..
October 6 Took most of the day and the night but Web Tute is finished - here's its Table of Contents - web purists are advised not to look :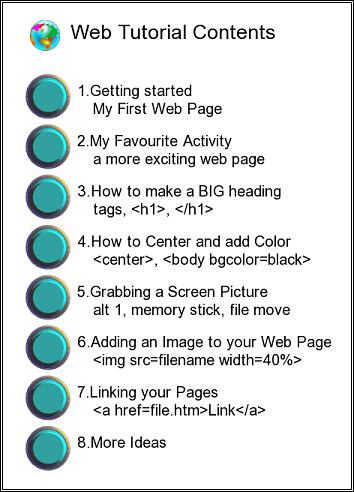 Later Added a bit of pizzazz to the Final Page -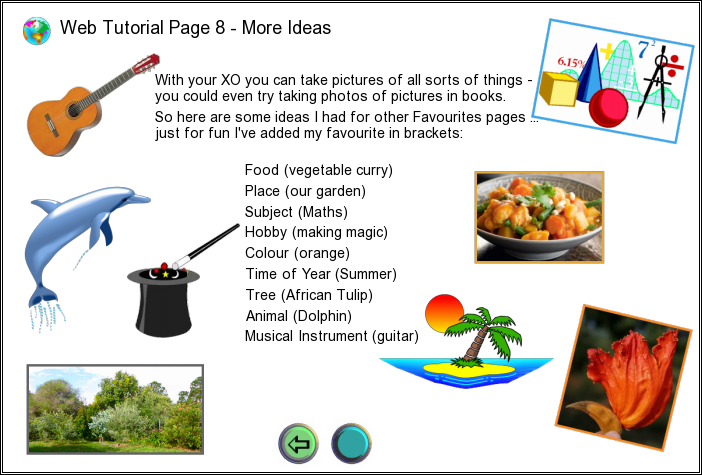 October 10 Back from my little sojourn at the Beach. Thought it might be a good time to check out the Sugar Labs download totals. The trailing numbers are the version numbers.

 33,104 Castle 23
 26,678 Jumble 22
 19,631 Spirolaterals 22
 18,215 Sudoku 28
 13,977 Follow Me 22
 11,503 Numbers 25
 11,403 Turtle Machine 22
  9,773 Boxes 22
  8,608 Mancala 22
  7,463 Triples 24
  6,933 Tessellations 23
  6,497 Sokoban 23
  6,204 Ominoes 22
  5,474 PMJ 22
  4,954 Eleusis 22
  4,011 Soma 25
  3,796 Shapes 22
  3,579 Trails 23
  3,205 PJ Lite 22
  3,113 PJ 22
  2,857 Rectangles 23
  2,351 IQ 22
  2,296 Pursuit 22
  2,255 Appel Haken 24
  1,753 Letters 23
  1,332 SimCom 25
    594 DidgArt 27
    516 Python Tute 29
222,075 TOTAL DOWNLOADS
     28 ACTIVITY COUNT

And there are still three activities awaiting Martin's imprimatur (he's a little preoccupied at the moment): Python Tute Two, Across and Down and Countries. And I'm about to package Web Tute and send it to him.
Activity No 33 - Oct
What better name for an activity created in Ocober? Here's a first look: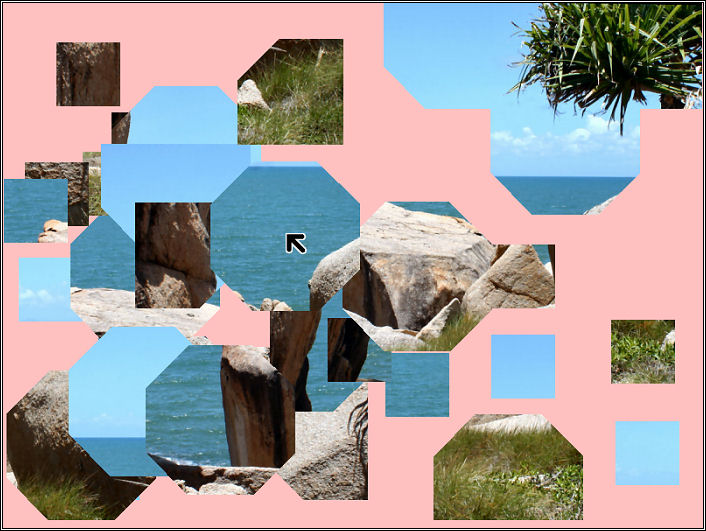 October 19 Guess this really doesn't belong in my OLPC Journal but ...
while Martin is otherwise occupied I've deviated somewhat! Martin's to blame anyway! He made me aware of a Linux guy who's into supplying free refurbished computers to underprivileged kids. I've decided to rework my Mulawa Dreaming Easy activities making them available for all platforms. As you can see from the picture, I'm off to a good start!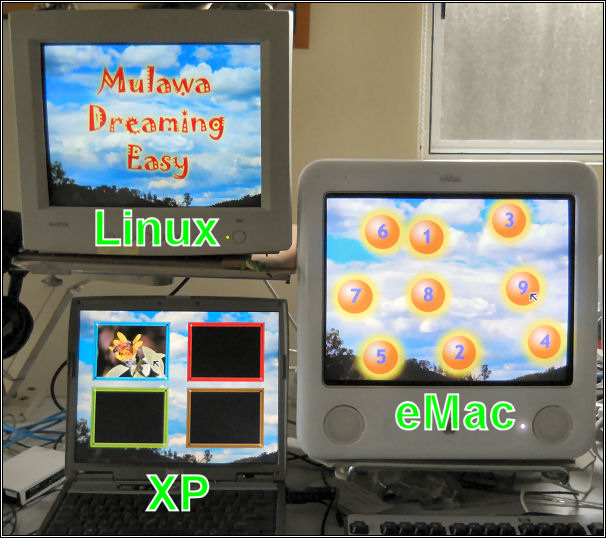 Only serious omission is the Intel based Mac - if anyone has an old one they no longer use ... I can put it to good use! In the meantime I'm saving my pennies!
October 20 The fun continues - some images from the Mulawa Dreaming Easy Kaleidoscope activity.

October 28 The "Mulawa Dreaming Easy" rework is finished - I'll post a link for it later which will include versions for Windows, Linux and Mac PowerPCs.
Activity No 34 - End Game
For some time I've been toying with the idea of a Chess based activity. I've come up with an idea for introducing the basic moves to complete novices. It will use my number hopping idea that you can see in the eMac picture above. The player has to move a piece onto the numbered squares in order. Then we'll move on to some simple end games - eg two rooks. The picture shows my board and piece design and already all the pieces have been "taught" their moves.