August 5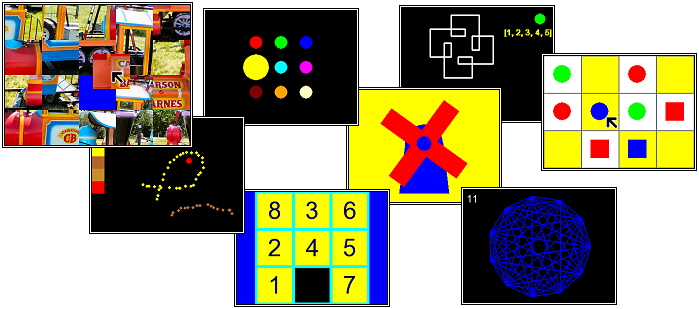 Some images from the just completed Python Tutorial Two. As you can see the emphasis is on finished projects.

August 12 Another exciting visit to the Sunshine Coast University. Had a couple of great sessions with three staff from Doomadgee and Tracy from OLPC Australia. But sadly I've decided this is my last public outing ... was aware of two many slipping memory cogs! I prefer to leave on a high note (unlike some test cricketers!) and my last session at USC went very well.

Of course my Activity Development will continue and I'm more than happy to work with people on a one-to-one basis or via e-mail.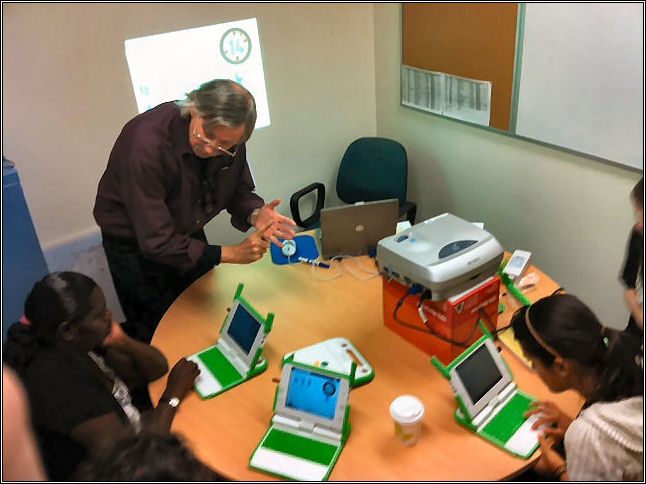 Activity No 28 - Letters
August 14 One thing to come out of the University visit was the need for literacy activities. Tracy suggested I add "Letters" (from "Letters & Numbers") to the Collection. Here's what I've come up with:
Activity No 29 - DidgArt
August 20 Something a little different!
Much work has gone into making the shapes slightly irregular - even with variation between successive applications of the same shape. The drawing shapes are along the top and their size and colour can be altered. A big breakthrough (for me anyway) has been finding a clean way to store and retrieve drawings.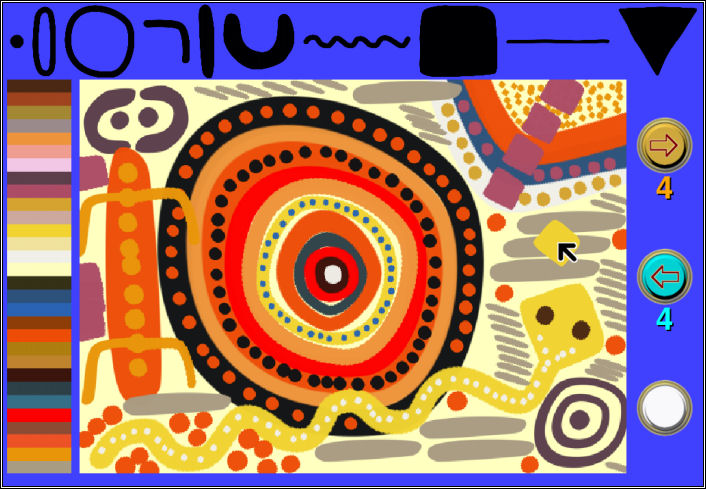 August 24 I've been asked to consider working on an eBook facility - ie providing a way for students to combine pictures, text, sound and perhaps video into a single presentation. You're probably thinking along the same lines as me ... all this can be achieved by creating a local web page and viewing it with the Browse activity. So I've starting looking at just how simple I can make the html - here's a first look: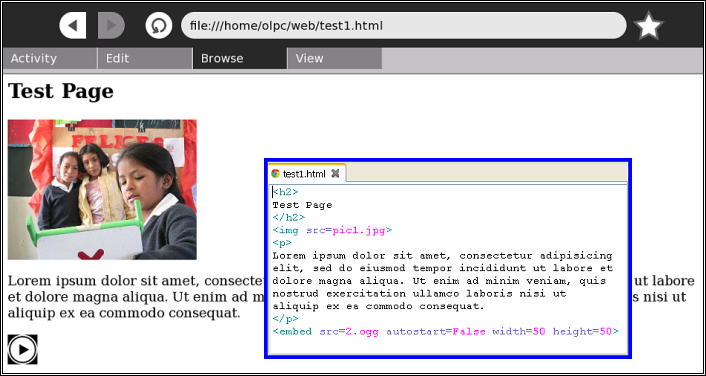 I've used gedit to create the file behind the web page - notice how it automatically colours the html tags.
Pros:
both activities are already there - gedit & Browse;
students develop skills and concepts of universal value;
hot links are possible (and easy) - just like on "real" web pages.
Cons:
requires using Terminal (to start gedit and to move files);
tricky getting pics from the journal to where they're needed - but it's very easy using a memory stick;
the url is a bit ugly - but it is "remembered" for the next start up.
So I'm considering "Web Tute" as my next activity.
Activity No 30 - Web Tute
August 25 No sooner said than done ... here's Page One: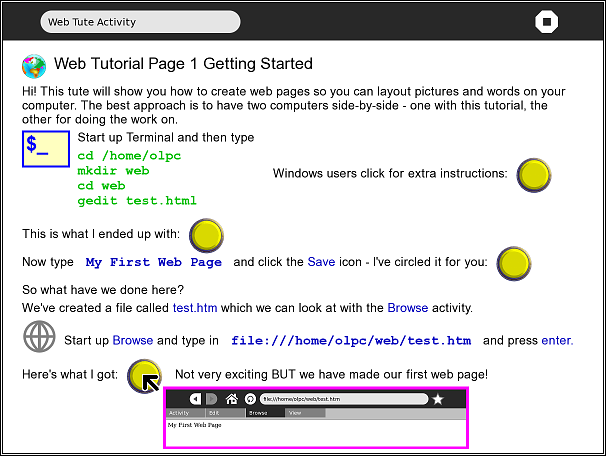 August 28 The following public comment from a teacher in the far north of the Northern Territory makes it all worthwhile:
Once again, these activities are fantastic for our kids because of your design principle where a language barrier does not exist. When working out in homelands during the week, our kids come back to school after tea (i.e. our tea) to work with the computers for as long as we let them. Activities such as these and the Lego WeDo kits are wonderful resources to have available in this window of time - there is a buzz and level of learning in the room which I wish other people could witness!!