Web Game Creation Tutorials
No previous knowledge of html or JavaScript required.
Tutorials should be done in order,

Blitz Basic
A great way to get started creating games or activities for Windows computers.
This is the language that got me started!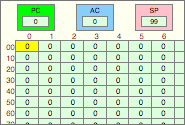 SimCom
The SimCom computer is in the Activities section.
This tutorial will show you how to use it.

JavaScript (2009)
JavaScript is the language that enables webpages to be interactive.
This is a gentle introduction with step by step instructions.

Bryce
Bryce is a 3D modelling facility.
Although it focusses on landscapes, I still find it useful for objects as well.

PJ Jigsaws - My Way
I continue to be amazed at how popular my jigsaws are after all these years!
This little tute is how I use them myself.

Out of Bounds Pictures
I was really taken with these pictures when I first came across them.
This tutorial was done with Paint Shop Pro but the principles should apply to any good image processing program.

Scratch
Scratch is a great way for young folk to start programming.
This is an advanced tutorial aimed at demystifying Vector Graphics, Clones & Costumes.